HOME
> Company Profile > Message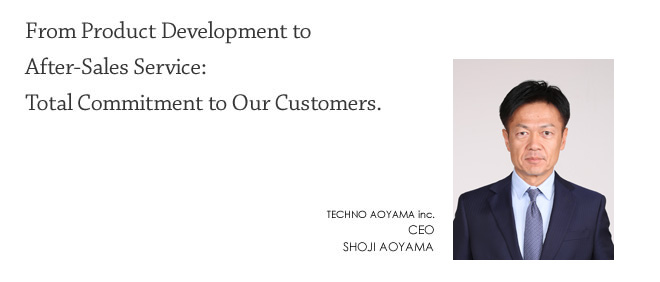 A Worldwide Reputation for Reliability.
Science and industrial technologies maintain steady progress, making our everyday life more comfortable and convenient.
Today, production facilities for automobiles and high-technology products depend on large-scale automated systems, and we can say that the majority of them are incorporating a range of automated control technologies.
We, at Techno Aoyama, will seek to remain a pioneer in the field of automated control technology, and maintain a commitment to the research and development of new and better technologies, responding quickly to changes in social and customer needs.
Over the 40 years since our establishment, we have developed an advanced technology for automated parts-feeding equipment that support all kinds of components, which are continuously changing in structure, and have satisfied customer needs.
We are confident that Techno Aoyama's "Stud Bolt Resistance Welding System For Thin Steel Plates" has been significantly useful for the production process related to press and welding work.
This development has largely contributed to speeding-up the welding process and quality improvement in the automotive industry in particular, and has enabled our customers to achieve highly efficient production operations and ensure safety.
Techno Aoyama will continue its efforts to provide high-quality goods and services to customers, and is looking forward to your continued support in the years ahead.