The Nut Feeder is a state-of-the-art product developed by TECHNO AOYAMA in pursuit of product reliability and durability. TECHNO AOYAMA has been developing and improving the Nut Feeder since it came into operation in 1969. The Nut Feeder provides a nut centering technique using a permanent magnet and speedily feeding technique that does not require the rod to have means of holding nuts. These techniques provide infallible feeding at flexible angles with no feeding mistakes. Furthermore, each model is provided with a urethane chute as a standard accessory. The head tip has no hinge plate that needs replacement. TECHNO AOYAMA is proud of the Nut Feeder as a product with overwhelming durability because there are no parts that need regular replacements. Moreover, the parts feeding block secured with anti-vibration rubber withstands seismic vibration and contributes to the reduction of noise. An anchor-supporting stand is available as an optional accessory. The Nut Feeder in combination with an auxiliary hopper that has a function to control the flow rate of parts will provide higher reliability than any competitors' models.
Photo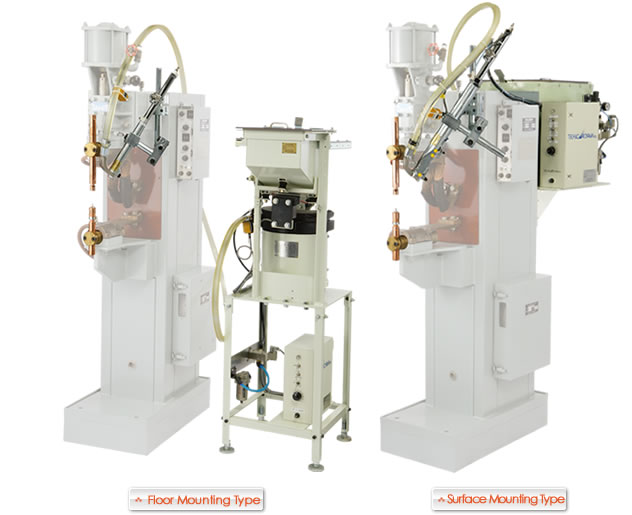 Nut Feeder of Air Escape Type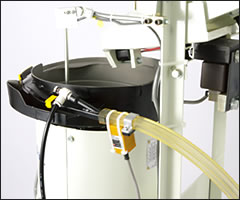 The Nut Feeder of unique, simple air escape structure steadily blows away nuts. Furthermore, the structure minimizes the required air escape time of the Nut Feeder, thus saving energy.
Nut Feeder of Mechanical Escape Type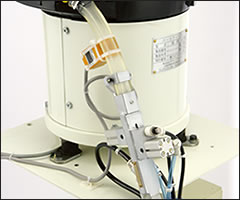 The Nut Feeder of mechanical escape structure steadily blows away a single nut at a time. The feeding head can be mounted to a movable device, such as a C-gun, to blow away nuts in the movable urethane chute. This model covers an operating distance up to 20 meters.
Attachment list
Example of mounting to C-gun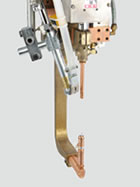 The Nut Feeder moves together with the C-gun while the panel is secured, which minimizes the required work area of the Nut Feeder.
A robot can hold the Nut Feeder as well.